An upgraded version of the free note taking app, Note Anytime for iOS, now offers support for handwriting recognition and predictive text in 13 languages with the mazec add-on.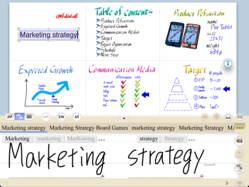 Note Anytime 1.4 for iOS is the most versatile note taker yet – with new navigation features and even handwriting recognition support through MetaMoJi's plug-in app called mazec.
Palo Alto, CA (PRWEB) July 09, 2013
MetaMoJi Corporation releases today an upgraded iOS version of their award-winning note taking app, Note Anytime, with major product enhancements such as easy navigation features and support for handwriting recognition in 13 languages. For those with bad handwriting or writing disabilities, Note Anytime with handwriting recognition can speed up note taking by converting notes to text and correcting spelling errors in real time or as a batch at any time later.
Note Anytime for iOS is already the #1 app in Japan, and ranks within the top 10 apps in more than a dozen countries. Since Note Anytime is the most feature-packed free note taker on the market – it is quickly becoming the app of choice for all mobile devices (iOS, Android, Windows and Kindle Fire).
Note Anytime 1.4 for iOS takes note taking and sketching to a whole new level: 
    HANDWRITING RECOGNITION – For the first time, the iOS version of Note Anytime can support handwriting recognition in 13 languages through the mazec plug-in (available from the App store for $7.99 per language or $19.99 for all languages). Users can jot notes with a finger or stylus and convert to typed text either on the fly or as a batch later. Mazec technology even offers cross-application handwriting recognition as an alternative choice to keyboard input for surfing, email and within other apps.
    Advanced features of the mazec handwriting recognition plug-in include: 
     o    Stroke-based handwriting input can recognize even semi-cursive handwriting. 
     o    Predictive text will help you correct spelling and typo errors on the fly. 
     o    Handwritten notes can be converted to digital text in real-time or on-demand later. 
    ONE TAP SCROLLING – One Tap Scrollers and the Zoom Slider allow users to scroll around a document and zoom in and out quickly while editing a note. When in the view mode, tapping at the left or right side of the displayed page will quickly move between pages.
    AUTO WRIST GUARD – The Auto Wrist Guard automatically detects wrist movement on the screen. The initial setting is for right-handed users, but can be changed to left-handed within the settings menu.
    SMOOTH PAGE TRANSITION – This new app feature makes it super simple to navigate between pages. When in the View mode, a transparent bar can be selected left or right so that users can quickly and easily move between pages.
    SEND TO EVERNOTE OR DROPBOX – There is a new menu item added in this release to allow users to quickly save documents or sketches to Evernote or Dropbox.
    QUICK START GUIDE – Users can get up and running quickly with Note Anytime with a new User Guide to help them quickly explore features in this innovative app.
Note Anytime for iOS has entered a whole new level of productivity with this new release. Whether mobile users are using Note Anytime for their personal lives or business activities – they will love having note taking, PDF annotation and web browsing in one powerful app. Since Note Anytime is free for download on nearly all mobile devices, it is quickly becoming the app of choice for family and business users alike. Note Anytime is so packed with features, it is the ideal note taker – anytime, anywhere.
Users should download the product and give it a test drive. Note Anytime is available for download in the iTunes App Store for free at: http://itunes.apple.com/app/id557121061.
Contact: Pamela Millar Tel: +1-650-798-5082 or email to Pamela(at)metamoji(dot)com
About MetaMoJi 
MetaMoJi creates products to break barriers between devices and users with revolutionary applications on smartphones and tablet devices. MetaMoJi's unique innovations give users the comfort of an analog experience with the convenience of digital technology. MetaMoJi's mission is to contribute to the advancement of human beings with unique applications to collect knowledge, write documents, organize ideas and share them with others. Please visit the corporate site for more information.
see more: http://www.prweb.com/releases/2013/7/prweb10866237.htm