MetaMoJi's Yacho digital field book application is introduced and demonstrated for Apple iPad users in the European construction industry on opening day at the UK Construction Week's Build Show conference in Birmingham, England.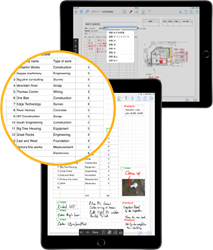 Yacho easily brings key productivity functions found across multiple industrial and field applications into a single mobile app.
LONDON, UK (PRWEB) OCTOBER 04, 2015
MetaMoJi, a leading global provider of productivity and industry efficiency applications, has introduced its new Yacho digital field book application for use in construction industries worldwide. The new application was demonstrated today for the first time in Europe on opening day at the UK Construction Week's Build Show conference in Birmingham, England.
Yacho easily brings key productivity functions found across multiple industrial and field applications into a single mobile app. The Yacho development team was led by legendary Japanese software designers Kazunori and Hatsuko Ukigawa, founders of MetaMoJi, who were inspired by Japan's unique Gemba Kaizen concept of continuously finding improvement where the work actually takes place. 
Mobile technology for construction
Said Ben Walshaw, MetaMoJi EMEA Sales Head, "Yacho was created with input from global construction experts, using our multi-award winning MetaMoJi Notes platform to address the specialized needs of workers on-site and in-office. Yacho can be used across the organization, across a range of roles and functions, from architects to structural engineers, from surveyors and modelers to planners and site supervisors."
Key features
Information comes in many forms and Yacho is designed to help capture it quickly. Yacho combines the flexibility of pen and paper with advanced digital media capture, all done directly from a tablet in the field or in the office.
With Yacho, users can: 
Perform calculations and structured data input with standard spreadsheet components.
Record audio directly into the page for archival and further analysis.
Take photographs using the camera or import from a camera roll anywhere in the document.
Create smooth ink drawings with a wide variety of pen styles and colours.
Fine tune and modify anything users draw on the page with vector graphics systems (as used in CAD applications). 
Move, scale and rotate anything on a notes page without losing quality.
Easily switch to entering text using a keyboard.
Make quick re-use of a pre-defined shapes library. 
Use form and paper templates that are already available or easily import existing forms from elsewhere.
Powerful diary management mode
Yacho includes a powerful diary management mode. Pages in a notebook are time-stamped at creation and can then be easily found via Yacho's innovative calendar layout. 
Users can include time and date information in a page automatically, allowing concentration on capturing information without worrying about how to organise each note. At any time, users can see note pages in date order, or use the calendar view to focus on pages created on a specific day. 
Innovative reminder and alert management
Yacho allows users to add a reminder or alert to any content within a notebook. Users can filter out each type of activity quickly and see a snapshot of the entire activity – not just a text description. 
To quickly and easily mark up information on Yacho, users select the content (it can be anything including photographs, drawings, handwriting and any combination of these together) and then assign a customizable action tag. These can then be searched, extracting the content from note pages and displaying them in a concise manner. 
Audio Recording
Not all valuable construction information is visual. Yacho easily captures audio and voice recordings in notes. If recording voice notes is more convenient, users simply start the recording process with a quick tap. This feature also lets users record the sound of a site, from equipment noises to meetings or oral explanations from colleagues. 
About MetaMoJi Corporation
MetaMoJi is a premier application developer offering an advanced suite of products designed to be used by consumers, business and education. MetaMoJi is committed to producing applications that help people perform tasks more efficiently, allow organizations to improve their processes and deliver a consistent user experience across multiple mobile devices and platforms. Recent awards include a winning place at the 2015 International Business Awards, two Envisioneering awards at CES 2014, and Tabby and Appy awards.