MetaMoJi Corporation today launches MetaMoJi Share for ClassRoom as a social learning platform for students and teachers to interact in live group collaboration over a virtual whiteboard.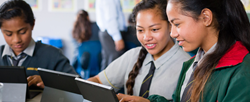 Teachers can use the app to design personalized blended learning programs for those students with special needs or requiring more supervision.
Palo Alto, CA (PRWEB) February 17, 2015 
MetaMoJi Share for ClassRoom provides an interactive teaching environment for individual study, group study, and collaborative learning. As a social learning platform, Share for Classroom allows teachers to digitally guide student work progress in real-time online interaction. The app provides teachers with a virtual whiteboard canvas to customize highly visual lesson plans including drawing, handwriting, images, websites and even audio files. 
As students work through the lesson plans, teachers can monitor their progress with a virtual look over the shoulder. Since all results of document markup are displayed in real-time, student engagement in lesson plans can become highly interactive. For distance learning situations, the cloud-based streaming environment provides an ideal way for instructor and student to work closer together. All work is displayed as it is entered in real-time, making it easier to illustrate and share lessons and ideas.
MetaMoJi Share for ClassRoom allows teachers to distribute a "Class Note" to their students. The note is either created from scratch with the powerful tools within the app or by importing files from PDF or Microsoft Office formats. Opening the Class Note starts a class. The students can write answers, sketch drawings or import photos and graphics to illustrate their ideas. Teachers can monitor how each student or group is progressing through the lesson by "checking in" to their screen while they are working. Easy management controls even allow the teacher to pass presentation control to the student to demonstrate their work.
With MetaMoJi Share for Classroom, teachers can create fluid lesson plans that are dynamic and engaging. Teachers can use the app to design personalized blended learning programs for those students with special needs or requiring more supervision. Extremely accurate handwriting recognition and voice capture functions within the app makes input quick and accurate, even for students with learning challenges. 
Following the lesson presented in class, students can join collaborative study groups and work through their homework together by checking in to the same document and sharing ideas within it. Teachers can use the platform for wraparound tutoring opportunities, helping students individually or in a group in virtual sessions. Teachers can even run an interactive lecture with their remote students.
Downloads & More Information 
METAMOJI SHARE FOR CLASSROOM REQUIRES A METAMOJI CLOUD LICENSE 
PLEASE CONTACT US AT BUSINESS.METAMOJI.COM/EDUCATION-SOLUTIONS FOR MORE INFORMATION
Web Site: http://business.metamoji.com/education-solutions/ 
About MetaMoJi Share: http://shareanytime.com/ 
Contact us: http://shareanytime.com/en/contact.html 
MetaMoJi Corporation Privacy Policy: http://product.metamoji.com/en/privacy/
MetaMoJi Business Solutions
For more information about the business specific applications or to make contact with our sales team please visit http://business.metamoji.com/
To evaluate MetaMoJi SHARE for Business or MetaMoJi NOTE for Business then please visit http://business.metamoji.com/evaluation-options/ to request assistance.
To discuss partnering with MetaMoJi please email ben(at)metamoji(dot)com 
Free versions of the consumer applications are available from your device's App Store. 
For more information on all features, and for all download links, visit: 
http://www.noteanytime.com for MetaMoJi Note 
http://www.shareanytime.com for MetaMoJi Share