Today marks the official launch of MetaMoJi Share for Classroom, a real-time collaboration app for teachers and students to interact within the classroom.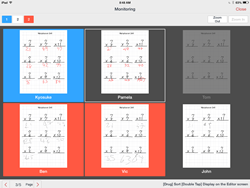 With Classroom we wanted to allow both students and teachers the flexibility of pen and paper and even a whiteboard within their tablet computers
Palo Alto, CA (PRWEB) April 15, 2015 
MetaMoJi today announces the general availability of its Classroom application. This dynamic collaboration environment allows teachers to look over the shoulder of students in real-time interactive class sessions from mobile devices. The Classroom product combines many of the features of MetaMoJi's award-winning Share and Note infrastructure with the document and user management required for teaching and learning within a classroom setting. 
The Classroom product was designed by MetaMoJi to give teachers a powerful tool that is easy to configure and manage documents for distribution, sharing and mark-up. For larger organisations that need centralised management of users and licensing, Classroom provides ICT friendly functions to integrate large numbers of students and faculty.
"MetaMoJi developed Classroom to help teachers and students work more efficiently as individuals and groups, making the most of the benefits modern tablet technology brings to education." said Kaz Ukigawa, CEO at MetaMoJi. "We listened to the education users of our existing products and applied the key elements they wanted in their classrooms. We want to ensure that the key values of teaching and learning are not impacted when introducing technology but that new methods and techniques can be developed and shared around the world."
MetaMoJi Share for Classroom is a combination of cloud SaaS and a tablet app, currently available for Windows 8 and iPad. Teachers can define groups of students, with the capability to define teams for group activities. Each class has a private repository of documents that can be easily synchronised and that are securely backed up in the cloud for safety. Source materials such as curriculum course work, exams, and assignments can be distributed via the application to the relevant students. The documents can be imported from existing content such as PDF or office documents, or created within the rich editing environment of the app. Each page of a document can be assigned as: 
Read only, for the teacher to display to students
For an individual student to provide their own work
For a group to work on
As a free for all page for the entire class to collaborate
At any time, a teacher can view the current progress of any student in real-time, as they work on a document. If students appear to need assistance or request help from their app, the teacher can see immediately and interact with the students document in real-time, face-to-face or remotely.
"With Classroom we wanted to allow both students and teachers the flexibility of pen and paper and even a whiteboard within their tablet computers" said Hatsuko Ukigawa, Co-founder and CTO of MetaMoJi. "It was important to me that the performance of the application, and the editing features available, should enrich the learning experience and not cause frustration when using the application. By implementing our own cloud based streaming solution we are able to link hundreds of users to a document in real-time, with each user able to see changes being made almost as quickly as they happen on another users tablet."
MetaMoJi Classroom has been designed to manage thousands of concurrent users working on shared documents, on their own work, and even to support online lectures using a view-only mode. The solution is designed to work on-premise, with students in a traditional classroom as well as remotely, with students able to connect with their teachers over the Internet. There is no restriction in where a teacher or student is located: teach in the school classroom during the day, but provide 1:1 assistance to students remotely in off hours.
Classroom is available immediately for a free trial or purchase at http://business.metamoji.com/classroom. MetaMoJi Classroom is available in two different versions.
The "Teacher Kickstarter Edition" is available for educational organisations for $210 per year. This edition includes:
    1 teacher license
    20 student licenses
    additional student licenses at $20 per year
The Kickstarter edition is designed to help smaller schools or early-adopters of tablet technology in schools to introduce the application and evaluate its value.
The Enterprise Edition is available to all organizations and includes:
    Unlimited teacher licenses
    Unlimited student licenses
Pricing is based on the number of students and teachers in an organization, storage space and any custom support options required.
An on-premise version of the product is also available for organisations wishing to install on their own cloud or in their own datacentre.