MetaMoJi today launches a new app called Viddory which helps iPhone users capture, decorate and add special effects to micro videos with a few swipes of the finger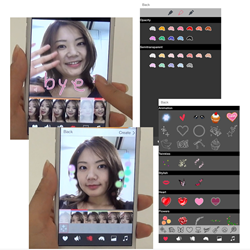 We are excited to see what kind of creativity Viddory will stimulate as users young and old decorate and share short messages with friends, family and colleagues in their lives.
Palo Alto, CA (PRWEB) December 11, 2014
Today MetaMoJi Corporation releases a new iPhone video decorating and editing app for social media sharing. The new app, Viddory, was designed to give users a fun and simple way to personalize their own story by decorating short videos to send out via popular social media. Short videos that are 6, 10 or 15 seconds can be either filmed within the app or imported for embellishment. Pen tools allow freehand drawing as well as cool effects like animations, stickers, music and filters. The app represents another in a series of Mobile Productivity Solutions MetaMoJi has produced in order to help mobile users get the most productivity out of their phones and tablets.
Viddory can be used on the iPhone to film, trim, annotate, embellish and share video stories with the simple swipe of a finger. Special effects can be quickly added to mini-videos through frame by frame handwriting and drawings, music clips, animations, stickers and filters. Results can be quickly sent out on Twitter, Facebook or other SNS or saved to the camera roll for upload to Youtube, Instagram and Vine.
Viddory provides many of the professional effects of video editing without all the usual associated complication. Stickers, sound effects and music can be added to microvideos to add deeper meaning to the message. Viddory was built around the idea of instant gratification in telling a short video story. With only a few seconds to capture and convey a message, Viddory helps users to squeeze the most out of every frame of their composition.
Viddory can be used for video blogging, sharing family moments, announcing events, sharing shopping tips, or just showing off talent. Teachers may enjoy using the app for engaging students to tell their story visually for a homework assignment. Those in the professional field could also find it useful in illustrating and sharing quick visual ideas among colleagues or in a team. The app is free for download from the App Store. For an upgrade of $1.99, users can also disable any in-app advertisement.
VIDDORY FEATURES
1.    MINI VIDEO CAPTURE: Duration: 6 , 10, or 15-seconds with unlimited retakes
2.    EASY EDITING AND SPECIAL EFFECTS:
    Stickers (flowers, stars, shining graphics etc.)
    Filters for changing the mood (light, color, texture, contrast, eye effects etc.)
    Animations (stars, highlights, snow etc.)
    Handwriting and drawing for a personal touch (with slowed replay for ease of use)
    Drawing pens: normal, highlighters, calligraphy pens
    Eraser (in multiple sizes) to get it just right!
    Replay speed can be slowed down and set from x0.0 to 1.1 (11 speeds )
    Manga-style filters to transform your video into a Manga scene (negative, focus etc.)
    Add music:
– Original audio captured with the video turned on or off
– Music from your device
– Free samples provided by Viddory
– Music clips downloaded from iTunes
3.     SHARE OPTIONS
    Save to the iPhone Camera Roll
    Share on social networks (Twitter, Facebook, Line) directly from your iPhone
    Upload to Youtube, Vine or Instagram
HOW TO GET VIDDORY
App Store URL = https://itunes.apple.com/app/id945327334
Website URL = http://getviddory.metamoji.com
Support URL = http://product.metamoji.com/en/viddory/support/faq/
Privacy Policy = http://product.metamoji.com/en/privacy_i/
About MetaMoJi
MetaMoJi creates products to break barriers between devices and users with revolutionary applications on smartphones and tablet devices. MetaMoJi's unique innovations give users the comfort of an analog experience with the convenience of digital technology. MetaMoJi's mission is to contribute to the advancement of human beings with unique applications to collect knowledge, write documents, organize ideas and share them with others. Please visit the corporate site at http://www.metamoji.com for more information.
source: http://www.prweb.com/releases/2014/12/prweb12381481.htm